Products
gasfill HOME
The gasfill HOME allows you to refuel your car with CNG at home anytime when your vehicle is stationary. The unit is connected to your natural gas supply and compresses the natural gas into the on vehicle storage cylinder at 200bar. The unit automatically cuts off when the cylinder is full.
Installation is simple and can be carried out by any qualified natural gas installer and the unit takes its supply of electricity from a normal domestic socket.
gasfill HOME specification:
Availability:NOW
| | |
| --- | --- |
| Capacity: | 2.0m3/h |
| Inlet pressure: | 21mbar |
| Outlet pressure: | 200bar (250 bar USA) |
| Size: | 990 x 600 x 360 mm. |
| Weight: | 155kg |
| Fill rate: | Fills 90 litre storage cylinder in 10 hours. Equivalent to 5.2 UK gals (24 litres) of petrol |
gasfill FLEET units
We also provide gasfill FLEET units which can either be used for Slow Fill systems or for Mini Fast Fill systems and are ideal for businesses, specifically aimed for small fleets of cars and vans. We offer single units or link a number of units with an on site cylinder storage and a fill post.
Slow Fill systems
Slow Fill is when filling takes a number of hours to replenish the fuel that is needed for the following day and is ideal for businesses running 1-3 vans that return to base each day and are parked overnight. Simply connect the appliance's flexible hose to the vehicle and switch on. Leave the unit unattended to refuel the vehicle – it will automatically switch off. The key benefit of this type of filling system is that it provides the lowest capital requirements for CNG refuelling.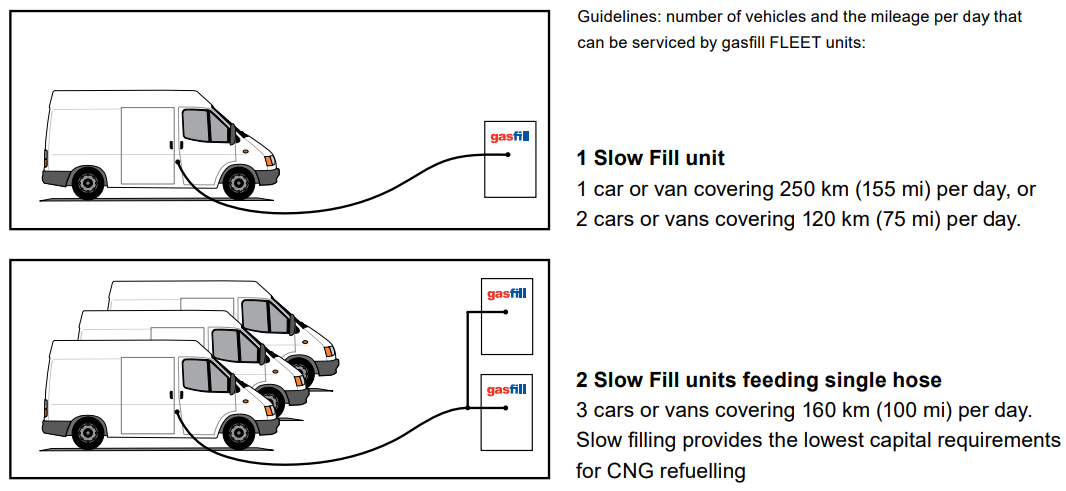 Mini Fast Fill systems
Mini Fast Fill systems can be tailored exactly to the number of vehicles and daily mileage requirements by increasing the number of gasfill FLEET units. Up to a total of 8 gasfill FLEET units (16m3/h) could be used.
For example, a Mini Fast Fill system with 2 gasfill units, 15 storage cylinders and a fill post dispenser can support 4-9 cars or vans covering a total of 750 km (460 mi) per day. The Mini Fast Fill costs much less than comparable industrial type fast fill systems. Due to its modular and scaleable design, installation can be enlarged as the fleet size grows allowing capital expenditure to be deferred.

Please contact us for further details