gasfill seeks partner to take unique HRA to market
gasfill seeks partner to take unique HRA to market
The UK-based firm behind gasfill HOME – a domestic refuelling unit for CNG vehicles – is looking for a manufacturing company to help it enter volume production and engage with global energy suppliers.
The gasfill compressed natural gas (CNG) home refuelling appliance (HRA) features a patented, three stage, oil free compressor technology that only requires a domestic gas and electricity supply to be used. By removing reliance on the development of a nationwide network of refuelling stations, the concept offers a strong proposition for investment in the worldwide natural gas vehicle (NGV) market – currently estimated to be growing at 15% per year, with around 15 million CNG vehicles on the road today.
gasfill is one of only a very few manufacturers in the world to offer HRA technology on this platform and the only one to combine three important benefits; a 12,000 hour design life, low through-life cost of ownership and market readiness compared to other developing technologies. "With the right partner, we are confident of capturing an early and leading share of this exciting market," said Norman Leece, managing director at gasfill.
gasfill, which describes itself as "an alternative fuel technology developer" had always believed that the commercialisation of its unique HRA technology required a forward-thinking engineering manufacturer. "We are looking for a company with the capacity to assemble high volume compressed gas appliances and the ability to open up routes to market in target regions," said Leece.
Europe and the USA have been identified as priority markets, with Asia and other global regions to follow in the future. With its flexible technology platform, gasfill HOME can be adapted to meet specific performance and operational demands between countries.
"The increasing abundance of gas and its significantly lower CO2 and vehicle emissions are driving the CNG refuelling market, with countries like the US just starting to open up due to increased reliance on shale gas. gasfill HOME is ideally positioned to take advantage of this opportunity; designed and engineered as a cost-effective, convenient, mass market product. While we know there is genuine interest in our product, we are keen to find an established company able to handle the next stage in its commercial development," added Leece.
The company estimates the global market opportunity for HRAs could be over one million units per year based on an expectation that NGV will ultimately represent 5% of the global vehicle park by 2025.
How innovation is playing a vital part in creating a sustainable and competitive environment for future development
With around 38,000 people working within the transport industry in the East Midlands, it is a key regional employer and a significant driver for economic growth. John Frodsham, Director of the Transport iNet, looks at how innovation is playing a vital part in creating a sustainable and competitive environment for future development.
"The East Midlands is home to some of the finest research and development facilities in world for transport and boasts some of the biggest international names across a spectrum covering car manufacture to aerospace engineering. In order for this sector to grow in a sustainable way, specialists within the region increasingly need to share their knowledge, working together to access the right support to realise their ambitions.
"There is a real appetite for innovation and the development of novel ideas, particularly amongst the more ambitious small and medium sized businesses. We are not yet at the end of our first year and the Transport iNet has already worked with over 300 businesses across the automotive, rail, aerospace, motorsport and marine sectors providing advice, consultancy, supply chain support and access to funding for innovation projects.
The recent announcement by Lord Mandelson to create a Low Carbon Economic Area for Advanced Automotive Engineering in the East Midlands is a further boost to the work of the Transport iNet and demonstrates the importance of this sector in leading research, development and economic growth. It is encouraging to see the commitment from Government connecting national schemes with regional initiatives.
"The need to innovate is constant and can take several forms. It is inherent in giving businesses competitive advantage and driving growth. Businesses need consider how to develop a culture of innovation that is relevant to their context. Nurturing these things will help secure the future of the transport sector in the East Midlands and the UK as a whole.
"To date, Innovation Support Grants worth over £400,000 have been issued and collaborative research projects between small businesses and the regions universities have been supported, totalling more than £500,000. Projects have included the development of electric motorbikes, new precision tooling techniques enabling supply to new customers, a tracking device for mobility scooters and research into low cost, lightweight carbon composite materials for potential applications across all sectors.
"Given the scope of the sector there is no shortage of businesses looking for help with market analysis, research and development support, access to funding advice and grant support, as well as those who are motorsport specialists for example, but are looking to diversify into other areas such as rail or marine. It is essential that business support continues to help exploit the application of innovative technology and retain high value employment and high level skills within the region."
Leicester- based manufacturer gasfill Ltd is a prime example of a business who sought advice and support from the Transport iNet to take its home re-fuelling system from prototype to full manufacture.
gasfill, formed in January 2004, manufactures the gasfill 2000 a home re-fuelling system for cars and vans which uses compressed natural gas (CNG) rather than petrol as their energy source. It was developed to bring cleaner, greener vehicles to the roads, see www.gasfill.com.
The gasfill 2000 is a low cost, slow-fill re-fuelling unit that can be used with parked cars or vans anywhere where there is access to a standard natural gas supply and electricity from a standard 13 amp socket. It is simple to install, easy to use and has low maintenance costs, but most importantly it offers drivers up to 60% fuel cost savings, lower emissions and less CO2 impact. It is one of only two home CNG re-fuelling devices for vehicles available in the world.
CNG is one of a number of alternative fuels that is increasingly being used to fuel road vehicles, but it is a market place in which is difficult for small businesses to become established. Over nine million vehicles worldwide already run on CNG and the market is growing rapidly, gasfill wanted to exploit this market within the UK and overseas.
Through self funded research and development of over £1million, gasfill had developed the product and produced market ready units. Initial discussions with car conversion companies, car manufacturers, utility companies and distributors have taken place but gasfill needed additional industry connections to develop a sales network, promote the energy efficient re-fuelling system to domestic and commercial vehicle users and encourage potential investors to finance the next phase of growth.
gasfill approached the Transport iNet with a view to finding ways of increasing its visibility in the marketplace. The company also wanted to benefit from the extensive automotive industry contacts the iNet could provide within the UK and overseas and find out what funding was available to them.
Following an initial consultation, the company was supported to attend the CENEX national Low Carbon Vehicle 2009 two day exhibition in Milton Keynes. This offered exposure to and enabled demonstrations of gasfill 2000.
The business returned to the iNet for advice and support on strategic planning and market research. A market evaluation report provided a high level market overview highlighting key barriers and challenges, as well as opportunities. It showed the structure of the UK market would offer limited potential for sales. However, it did identify previously unconsidered European and global opportunities such as the Middle East and Brazil. This offered a potential route to sell, manufacture and produce the unit locally.
Norman Leece, Managing Director, gasfill, said: "The event was a great opportunity for us to gain exposure as this type of event often excludes small businesses due to budget limitations. More importantly, the market research has been invaluable in our strategic planning, helping us to focus our efforts on a number of key markets and develop a strategy for entering these markets.
"We believe that innovation and new products in the transport area are key to introducing changes to consumers' views on alternative fuels and such developments link well to the manufacturing skills that already exist in the Midlands."
For more information contact Rachael van Oudheusden on 0115 924 7132 or email rachaelv@willoughby-pr.co.uk.
Green vehicle technology given a national platform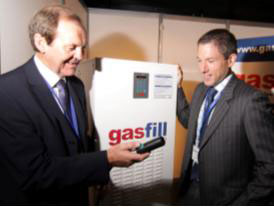 The Transport Innovation Network (iNet) supported an innovative Leicestershire business to showcase the latest green technology at the CENEX National Low Carbon Vehicle Event on 9th and 10th September 2009 in Milton Keynes.
gasfill demonstrated at the national exhibition held at Millbrook Proving Ground in Milton Keynes, thanks to the Transport iNet providing stand space. The iNet advisor team was also on hand to give innovation advice and support to small and medium sized businesses.
David Pickering, the Interim Project Director for Transport iNet, said: "The Transport iNet is always looking for new ways to support businesses looking to grow within the automotive sector. By exhibiting at this national event, gasfill had the chance to demonstrate their latest innovative developments to a national and international audience. Not only that, it provided a chance to hear the latest thinking from some of the industry's top names as well as meeting like minded industry professionals, identify competitors and explore future business opportunities."
This year's event aimed to promote Low Carbon Vehicle innovation and actively encourage designers, manufacturers and engineers to adopt 'greener' energy solutions throughout the automotive industry. The East Midlands offering included a low cost unit for refuelling cars and vans with compressed natural gas, a lightweight design option for vehicle seating, an energy saving device for engines, ultra low energy vehicle cars and plug-in cars.
Norman Leece from gasfill said: "It was a great opportunity for us to be supported by the Transport iNet to participate at the LCV event. Events such as this often exclude small businesses as they can be expensive and budget simply isn't available. It has helped to raise our profile and provide us with exposure to organisations that will help us grow our business."
CENEX is the UK's first Centre of Excellence for low carbon and fuel cell technologies and are the organiser of this annual conference. At the event delegates will have the chance to test out the latest in emerging LCV technology through hands-on driving experiences of low carbon vehicles, product demonstrations and a two-day timetable of seminars and workshops.
The Transport iNet, which is based at Loughborough University, is funded by East Midlands Development Agency (emda) and the European Regional Development Fund (ERDF). The aim of the iNet is to share expertise and stimulate the research and development of new products, services and processes across the five transport sectors, rail, marine, automotive, motorsport and aerospace.
Further information can be found at www.eminnovation.org.uk or by contacting Carol Wright on 01509 635270.