Green vehicle technology given a national platform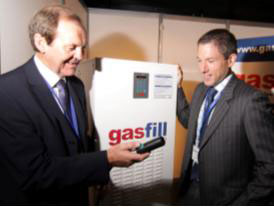 The Transport Innovation Network (iNet) supported an innovative Leicestershire business to showcase the latest green technology at the CENEX National Low Carbon Vehicle Event on 9th and 10th September 2009 in Milton Keynes.
gasfill demonstrated at the national exhibition held at Millbrook Proving Ground in Milton Keynes, thanks to the Transport iNet providing stand space. The iNet advisor team was also on hand to give innovation advice and support to small and medium sized businesses.
David Pickering, the Interim Project Director for Transport iNet, said: "The Transport iNet is always looking for new ways to support businesses looking to grow within the automotive sector. By exhibiting at this national event, gasfill had the chance to demonstrate their latest innovative developments to a national and international audience. Not only that, it provided a chance to hear the latest thinking from some of the industry's top names as well as meeting like minded industry professionals, identify competitors and explore future business opportunities."
This year's event aimed to promote Low Carbon Vehicle innovation and actively encourage designers, manufacturers and engineers to adopt 'greener' energy solutions throughout the automotive industry. The East Midlands offering included a low cost unit for refuelling cars and vans with compressed natural gas, a lightweight design option for vehicle seating, an energy saving device for engines, ultra low energy vehicle cars and plug-in cars.
Norman Leece from gasfill said: "It was a great opportunity for us to be supported by the Transport iNet to participate at the LCV event. Events such as this often exclude small businesses as they can be expensive and budget simply isn't available. It has helped to raise our profile and provide us with exposure to organisations that will help us grow our business."
CENEX is the UK's first Centre of Excellence for low carbon and fuel cell technologies and are the organiser of this annual conference. At the event delegates will have the chance to test out the latest in emerging LCV technology through hands-on driving experiences of low carbon vehicles, product demonstrations and a two-day timetable of seminars and workshops.
The Transport iNet, which is based at Loughborough University, is funded by East Midlands Development Agency (emda) and the European Regional Development Fund (ERDF). The aim of the iNet is to share expertise and stimulate the research and development of new products, services and processes across the five transport sectors, rail, marine, automotive, motorsport and aerospace.
Further information can be found at www.eminnovation.org.uk or by contacting Carol Wright on 01509 635270.